Ken Shin Kai meaning 'The Association of Strong Heart, Mind and Spirit' was established in Portsmouth, Hampshire in 1985 under the direction of David Eayrs, after it had been running under the name of the Shudokan since the 1970s.
Shihan David Eayrs (Founder)
PROFILE
David Eayrs the founder of Ken Shin Kai was born in Portsmouth, England and died in Moscow, Russia on 17th May 2019. David was also a founder member of the British Aikido Board. In addition to practising Yoshinkan Aikido for over 60 years, David also held the rank of 2nd Dan in Shotokan Karate.
In 1962, David was serving in the Army and whilst in Butterworth, Malaysia he started practising the art of Aikido with a small group of Malaysians. David was informed by the group leader that if he really wanted to understand Aikido he must meet an Instructor living on the island of Penang, Shihan Francis Ramasamy. Francis took David on as his only student until the establishment, with the help of David, of his first Dojo at the Minden Barracks, a British garrison in Georgetown, Malaysia, in 1965.
Later David was posted to Berlin where he began teaching Aikido to Army students and at the Municiple Academy of Police. David left the Army and returned to England in 1967 and began teaching Aikido to a small number of private students.
In 1968 David was awarded Shodan by Gozo Shioda and two years later he opened his first club at Denmead in Hampshire. David worked hard to establish many Dojo's and many of his students are now Instructors in their own Dojo's. David was awarded an honourary 8th Dan in 1996 from the Executive Committee of Ken Shin Kai, in recognition of his efforts and achievements in spreading the knowledge of Yoshinkan Aikido.
In August of 1993 David moved to Moscow to further spread the knowledge of Yoshinkan Aikido, where he formed his own Aikido Association "Misogikan". David had worked in Russia as the Assistant Manager for a British Security Company, during his time with this company he was tasked to train Russian guards in all aspects of defence, including un-armed combat and the use of side-handled batons.
David explained, "The task was very challenging and revealing because all of the Russians employed were highly skilled practitioners of the Fighting Arts. All were ex KGB or Special Forces and therefore all techniques taught had to be proved, with the Russians having a no-nonsense approach to what is effective and what is not. Other factors also effected the choice of technique, these included the wearing of heavily padded clothing, the slippery ice-covered roads and pavements and the fact that most criminals are armed with some sort of gas or red-pepper gun. Flowing circular Aikido techniques were not possible in the winter conditions and techniques such as Irimi Nage, Irimi Tsuki and Koshi Nage seemed the most effective. It is a very macho world in Russia and the Russians have no time for the faint-hearted, but they rate Aikido very highly".
Sensei Garry Masters (Principal Coach)
PROFILE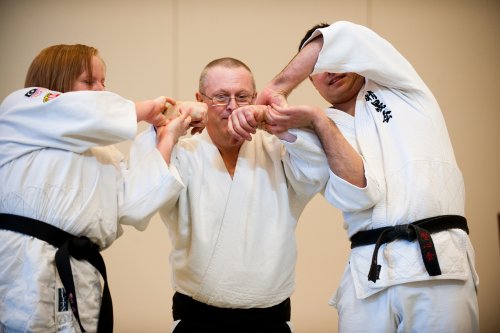 The Ken Shin Kai Aikido Organisation is run by the Principal Coach and Chairman Sensei Garry Masters, 7th Dan. Garry was born in Portsmouth, Hampshire and has been practising Aikido for over 40 years.
Garry began practising Yoshinkan Aikido in 1978 under the tuition of David Eayrs. Over the years Garry has accumulated an extensive knowledge of Yoshinkan and various other styles of Aikido, receiving additional tuition from Shihan Francis Ramasamy and attending seminars taught by Kiyoyuki Terada, Morihiro Saito, Tsuneo Ando, Kyoichi Inoue, Tsutomu Chida, Takefumi Takeno and Yasuhisa Shioda and many others.
In addition to this he has also gained experience in Iaido, Shoto, Tanjo and won the first ever Jodo championship held in England (Mudan Section) in 1986.
Garry was Chief Instructor of Ken Shin Kai from 1985 to 1994. In 1994 Garry was elected as Principal Coach and Chairman of Ken Shin Kai by the Executive Committee, after the resignation of David Eayrs (due to relocation to Moscow). Garry holds the ranks of 7th Dan Instructor Yoshinkan Aikido (Japan) issued by the Yoshinkan Hombu dojo in Tokyo, Japan, 5th Dan Instructor Mushinkan (Malaysia), 1st Dan Jodo and 1st Dan Iaido.
Garry has travelled to Yoshinkan Hombu Dojo in Tokyo, Terada Shihans Dojo in Kamakura and has travelled five times to Malaysia to extend his knowledge of Yoshinkan Aikido in intensive training courses, instructed by Shihan Francis Ramasamy and Sensei Sonny Loke. All of this has been achieved by Sensei Garry, despite the fact that in view of a heart condition, and having suffered a brain haemorrhage, he has been advised not to participate in any type of sport or physical exercise.
In his time as Principal Coach, Garry has obtained International recognition for Ken Shin Kai, and all of its Instructors and students. Firstly by establishing Ken Shin Kai as an Independent Yoshinkan Aikido Organisation recognised by the Hombu Dojo (headquarters) for Yoshinkan Aikido worldwide in Japan, and secondly by being awarded the Internationally recognised and authenticated rank of 7th Dan Yoshinkan Aikido Instructor.
Sensei Garry Masters is also the only Instructor to host a seminar in the UK taught by Kiyoyuki Terada - 9th Dan Yoshinkan Aikido Instructor in April 2002.
Garry is supported in this role by the Chief Instructor Sensei Richard Lewis - 5th Dan, who has been teaching martial arts for over 50 years and the Vice Chairman Sensei Roger Bish - 6th Dan, who has been training Yoshinkan Aikido for over 30 years and Senior Instructors Sensei Malcolm Courts, Sensei Dee Masters, Sensei Mark Coldbreath and Sensei Eric Woodgate.
Shihan Francis Ramasamy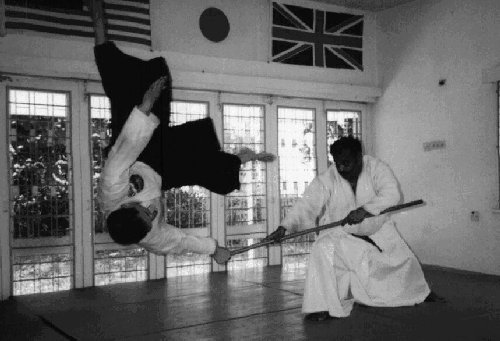 Close connections are held with Malaysia, originally through the Penang Yoshinkan Aikido Association run by Shihan Francis Ramasamy and now with Yoshinkan Aikido Malaysia run by Sensei Sonny Loke. Intensive training courses instructed by Shihan Francis Ramasamy were held at the Portsmouth Dojo and the Penang Dojo every four years since 1988. Members of Ken Shin Kai have visited the Penang Dojo on five occasions and Francis Ramasamy and some of his students visited Kenshinkai twice. These seminars allowed for the exchange of Aikido knowledge between continents.
Shihan Francis Ramasamy was born in Penang, Malaysia in 1939 and died in Penang, Malaysia in 2015. He had accumulated an impressive martial arts history, including training in Thai Muay Thai (Thai Boxing); Kodokan Judo 2nd Dan; Kendo 2nd Dan; and Shinden Fudo Ryu Kodachi Iai Shimpo 6th Dan.
In addition, Francis held the rank of 7th Dan in Yoshinkan Aikido and had studied Aikido for over 50 years, training under many high ranking instructors including: Soke Shioda Sensei, Yagi Junchiro Sensei, Kushida Sensei, Takufumi Takeno Sensei and many others.
Francis rented various premises and even used his own house as a temporary Dojo until 1985. Francis had travelled to Japan on many occasions to study under Gozo Shioda at the Yoshinkan Honbu Dojo. Francis had also taken part in Kangeiko (Winter Training) and trained with the Metropolitan Police in Tokyo. Francis felt that the repetitive uchikomi of Aikido reveals the truth of the ancient saying of the sage Lao Tse, "Read a book a hundred times, but do not read a hundred books at one time!"
Additional Information: About Kenshinkai, Kenshinkai Mon (Emblem), Yoshinkan History (UK)